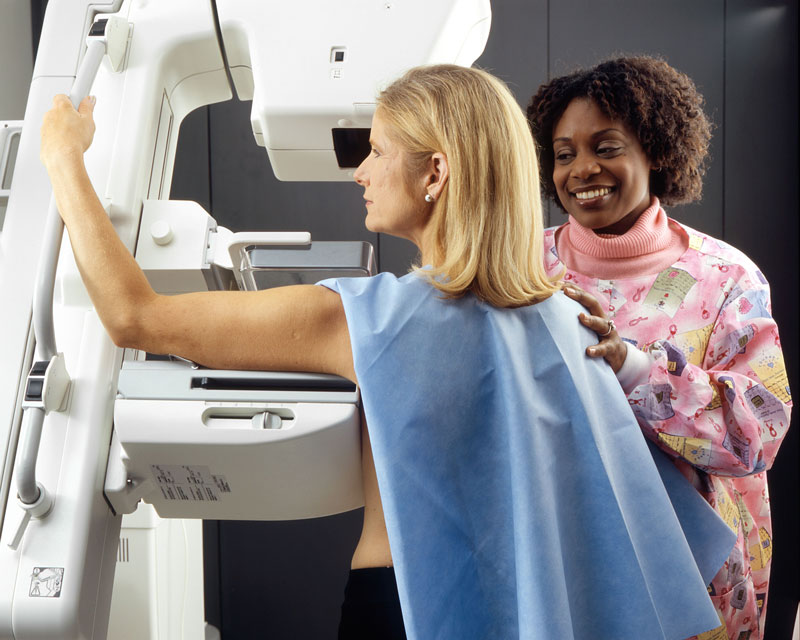 Mammogram is an X-ray image of your breasts used to screen for breast cancer. Mammograms play a key role in early breast cancer detection and help decrease breast cancer deaths. An X-ray captures black-and-white images of your breasts that are displayed on a computer screen and examined by a Radiologist who looks for signs of cancer. A mammogram can be used either for screening or for diagnostic purposes. How often you should have a mammogram depends on your age and your risk of breast cancer.
You will be given a gown and asked to remove neck jewelry and clothing from the waist up. To make this easier, wear a two-piece outfit that day. For the procedure itself, you stand in front of an X-ray machine specially designed for mammography. The Radiographer places one of your breasts on a platform and raises or lowers the platform to match your height. The Radiographer helps you position your head, arms and torso to allow an unobstructed view of your breast.
Your breast is gradually pressed against the platform by a clear plastic plate. Pressure is applied for a few seconds to spread out the breast tissue. Your breast must be compressed to even out its thickness and permit the X-rays to penetrate the breast tissue. The pressure also holds your breast still to decrease blurring from movement. During the brief X-ray exposure, you'll be asked to stand still and hold your breath.
OUR DECLARATION
Our staff comprises of an interdisciplinary team of dedicated professionals who expertly strive to exceed expectations, ensuring that the patient experience is seamless and hassle free.
Baines Imaging Group Medical Centre
52 Baines Avenue
HARARE
Tel: 08677000269
Baines Imaging Group Chitungwiza Central Hospital
Zengeza 4
CHITUNGWIZA
Tel: 08677000269
Baines Imaging Group Avenues Clinic
Cnr Mazowe / Baines Ave
HARARE
Tel: 08677000269
Baines Imaging Group
Centre For Advanced Medicine
70 Robert Mugabe Way
BULAWAYO
Tel: 08677000269
Baines Imaging Group Westend Hospital
Cnr Harare St / Baines Ave
HARARE
Tel: 08677000269
Baines Imaging Group
Mutare Medical Centre
123 Herbert Chitepo Ave
MUTARE
Tel: 08677000269
52 Baines Ave, Harare, Zimbabwe